Carlos Castaneda: American Trickster
"Carlos Castaneda: American Trickster is a stunning achievement. This genre-stretching biography moves fluidly between the mundane and the intellectual, the traumatic and the surreal. Marshall's philosophical acuity, honest self-examination, and edgy style make this book a fascinating quest narrative."
Carol Sklenicka, author of
Raymond Carver: A Writer's Life
and
Alice Adams: Portrait of a Writer
"When the University of California published Carlos Castaneda's
The Teachings of Don Juan
in 1968, it galvanized a generation and changed the field of anthropology. But the book was a hoax, a work of fiction. Plagiarized from multiple sources, it belonged to a long tradition of misrepresenting indigenous cultures. There was never a sorcerer named Don Juan. But there was a brilliant, magpie-ish storyteller named Carlos, who later become the leader of a deadly cult. Through exhaustive research, incisive analysis, and bravura storytelling, Ru) Marshall reveals the true story of one of the 20th century's most mysterious figures, and in so doing, reinvigorates and expands the biography genre."
Matthew Sharpe, author of
Jamestown
and
The Sleeping Father
"The most famous anthropologist after Margaret Mead, Carlos Castaneda declared
'Nobody knows who I am or what I do.'
An entire generation fell under his cultic influence. In
American Trickster,
the brilliant Ru Marshall reaches deep into philosophy, film, history and anthropology to examine Castaneda's sinister legacy. Spooky, mercurial, power-hungry, and dangerous -- what is certain about Castaneda? He was short. Even Marshall's footnotes are witty."
Terese Svoboda, author of
Anything That Burns You: A Portrait of Lola Ridge, Black Glasses Like Clark Kent
and
The Bohemian Girl
"Rarely have I met a book as edifying, gripping and wise as Robert(a) Marshall's biography of Carlos Castaneda. Anyone who wants to understand how charisma, cults and, indeed, today's politics work, should read this. It gives us the vocabulary we need to comprehend what's going on in our divided country while showing us how vulnerable we all are to seduction."
Helen Benedict, author of A
Map of Hope and Sorrow,
and
Wolf Season
"Robert(a) Marshall's necessary and groundbreaking American Trickster takes us into the dark heart of Carlos Castaneda, one of the twentieth century's most brilliant hoaxers. There are real crimes here, and real horror. Marshall paints a devastating portrait of the spiritual leader's genuine allure, and the febrile cultural landscape of the sixties that proved such a fertile ground for his fabrications. The urgent message of this oh-so-timely book is that when the message suits the age the turning of a million minds can be as easy as the loss of one."
Ranbir Sidhu, author of
Deep Singh Blue
and
Good Indian Girls
The Dark Legacy of Carlos Castaneda
The Witches Of Westwood And Carlos Castaneda's Sinister Legacy | LAist
Robert(a) Marshall | Interviews from Yale University Radio WYBCX
Biographer Turns Detective in Quest for Complete Picture | Biographers International Organization
William Ramsey Interviews Robert(a) Marshall about Castaneda
Robert(a) Marshall on Carlos Castaneda | To The Best of Our Knowledge
Trickster
a podcast about Castaneda
Photo courtesy of the Eddie Adams Photographic Archive, 2009-109/33,
The Dolph Briscoe Center for American History, The University of Texas at Austin
---
A Separate Reality
Carroll & Graf, October 2006
Lambda Award Nominee for Debut Fiction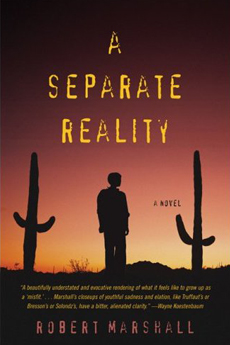 Click to buy on Amazon
Ru Marshall's novel
A Separate Reality
is set in Phoenix in the early seventies. Mark Grosfeld is a lonely, effeminate twelve year old whose parents are politically active liberal Jews. Mark meets Anna Voigt, a teacher who becomes his mentor. Anna, an ex-hippie poet, encourages Mark to write, and he becomes part of a circle of teenagers who smoke pot and meet at Anna's house for poetry readings. She introduces him to the Beats, Zen Buddhism and the popular seventies pseudo- anthropologist, Carlos Castaneda, author of
A Separate Reality
. Mark goes on a semi-comic suburban vision quest, trying to conduct his life according to the teachings he uncovers in the books he finds through Anna. While his search progresses, the tensions in his family rise and Mark's quest starts to take a strange and unexpected turn.
Marshall's novel is a portrait of the artist as a young man in the seventies. It's a novel about Jews in the sun-belt diaspora, sprinklers on dead grass, and the smell of creosote in the desert at night. It's a story of rattle snakes and the death rattle of the sixties. It's about Watergate and the history of the left from the Rosenbergs to McGovern.
A Separate Reality
is also a novel about grief and memory and the complex boundaries of self in a family. Most importantly,
A Separate Reality
is the story of a counter-cultural crisis of faith and the risks of the desire to be perfect.
"Marshall has a wonderful way of getting at truths… as good an encapsulation of adolescence as you're likely to read."
David Levithan
, The Washington Post
"This quietly intelligent debut novel about one lonely, creative adolescent's search for identity amid the indignities of middle-school life is precisely what most literary novels I've read this year are not: as deeply sincere as it is ironic. There are no clever turns of phrase here, nothing sardonic. Marshall's is a gentle, but progressively urgent interweaving of idea and emotion that, in its exquisite loyalty to the rhythms and patterns of thought, lays bare the contact of the conscious mind with the unconscious one; the tension between the real and the unreal. . . . Like Holden Caufield and adolescent narrators everywhere, Mark is painfully aware of falsity, but in Marshall's hands, this awareness is elevated to the level of a philosophical inquiry."
Debra Liese, The Literary Review
Read more
…
"Describing the plot of this book does not do it justice, and maybe that is true of any terrific novel. It is about growing up gay and Jewish in a middle class family in the seventies. The whole book is rather calm, it calmly renders an era with a Proustian leisure, yet it is also a page turner. The delectation of an exquisite banality, the slow earnest longing that has not quite found its proper object, the humid passions and blindspots of the nuclear unit, the young fag as poet, as perfectionist, whose sensibility and aspirations are pitched so high–I experienced wave after wave of recognition."
Robert Gluck
, author of
Jack the Modernist
"Robert Marshall's unique voice, wry intelligence, sly humor, and genuine understanding of the family romance infuse his first novel.
A Separate Reality
beautifully depicts the poignant and bizarre condition called adolescence. It's a wonderful, imaginative work."
Lynne Tillman
, author of
No Lease on Life
"A steady-handed portrayal of growing up weird in '70s suburbia."
Timeout.com
"A gentle dream of a novel, precise and careful, about the end of childhood. Robert(a) Marshall takes us deep into the life of a precocious twelve-year-old boy in Arizona in the 1970s. Reading this book was just like being twelve again, with all its confusing complications. A very original, serious, heartfelt piece of work."
Christopher Bram
, author of
Gods and Monsters
"Robert Marshall casts a spell with his translucent prose and his startling powers of perception. With sensitivity, candor, and disarming humor, he offers a fresh look at the making of an artist. A Separate Reality evokes all the doubts and indignities of adolescence, as well as the deep ambivalence of belonging to an intellectual family. Balanced gracefully between the everyday and the mystical, this novel achieves a transcendence of its own."
Sarah Bynum
, author of
Madeleine is Sleeping
"A beautifully understated and evocative rendering of what it feels like to grow up as a 'misfit.'
I loved the prose's fidelity to thought's careening process. Robert(a) Marshall's closeups of youthful sadness and elation, like Truffaut's or Bresson's or Solondz's, have a bitter, alienated clarity."
Wayne Koestenbaum
, author of
The Queen's Throat
"Robert(a) Marshall's wry, delicate prose rejects every cliche about boyhood, in search of fresh insights about family, the suburban West, childhood longing, and consciousness itself."
Clifford Chase
, author of
Winkie
"Marshall conveys a photorealist snapshot of consciousness that had me wincing in self-recognition."
Paul Russell
, Lambda Book Report
"Anyone who's made even a cursory examination of websites like MySpace or LiveJournal could be forgiven for thinking that the mind of a teenager is not a place anyone would want to spend a lot of time. A Separate Reality will take you past that skepticism into the psyche of Mark, and remind you of when you were younger and everything was vivid and raw. Like all teens, young Mark desperately wants to both carve out his own identity, and to fit in. What makes his story so interesting is that he is not just looking for his purpose in his school's pecking order; he's looking for his purpose in life, the meaning of life. He tries out philosophies like other kids try out peer groups, struggling to make sense of Judaism, Taoism and Buddhism and, of course, the works of Carlos Castaneda . . . There's gentle humor in the treatment of his vague but intense desire to transcend the mundane. Mark is as intelligent as he is creative and spiritual, and his observations of the world around him are razor sharp, painting an intriguing picture of the dynamics of his family life — at once specific and universal — that is as fascinating as his inner life."
Brian Jewell
, Bay Windows
"an engaging coming-of-age story"
Bay Area Reporter
"Defining self, coming to terms with roles, negotiating difference, are the themes that Marshall plays out with arresting honesty and restraint. What he has created is a compelling look into what it means to be different at a time in most young people's lives when they just want to be the same, providing helpful insights into how children and families confront these issues and construct their own realities."
Vicki Cabot
, Greater Phoenix Jewish News
"A remarkably vivid writer"
The Orlando Sentinel
"Uncannily self-aware"
C. Murphy Hebert
, Phoenix New Times
"A first-rate portrait of adolescence with all its storm and stress"
Morton Teicher
, Jewish Post and Opinion
ru marshall

Photo credit: Nan Ring
Writing bio
Some Stories
---
Life Stories
Prussian Blue
Do the Math
Limbo
The Candy
Breaking News
AWP
A Florida Boy
My Bad
Passages
Objectivity in Brooklyn
Matt
Topic: Death by Antonio dal Masetto (translation)